Get Started With The Best Brazilian Jiu-Jitsu Training in Monaca!
Brazilian Jiu-Jitsu is more than just a martial art. It's also a self-defense system, a sport, and an excellent way to create better fitness! At Armezzani Jiu-Jitsu Academy, we offer authentic Jiu-Jitsu classes that focus on technique, real-world self-defense, on getting a great workout, and on building a sense of community -- a place where people from across Monaca can come together and train with confidence.
To learn more about Brazilian Jiu-Jitsu, just fill out the short form below!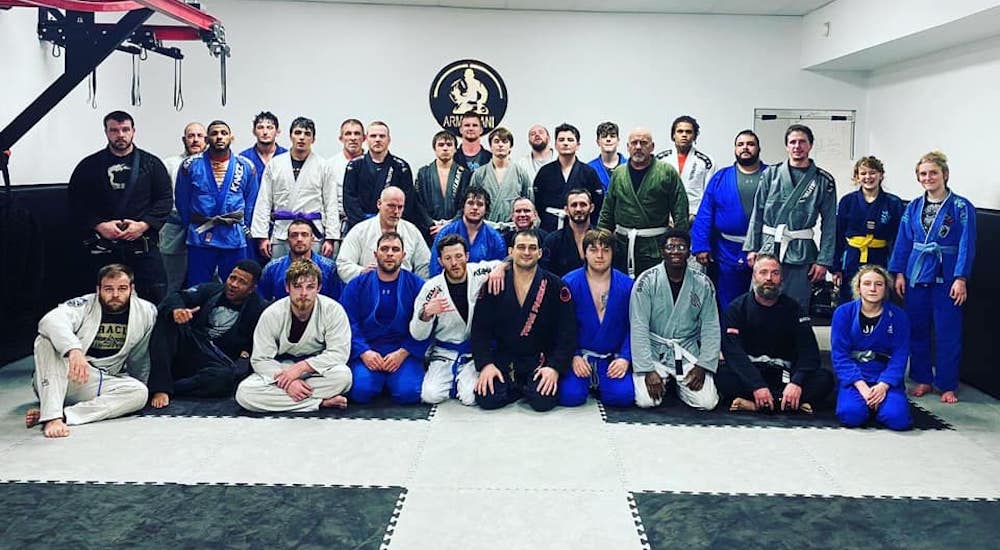 Why Choose Brazilian Jiu-Jitsu?
From establishing a new sense of self-confidence to experiencing reduced stress and heightened focus in your everyday life, Brazilian Jiu-Jitsu has real-world benefits.
Our team at Armezzani Jiu-Jitsu Academy is committed to helping ordinary men and women from Monaca take advantage of high-quality martial arts training. No matter your age, experience, or fitness level, we'll help you learn Brazilian Jiu-Jitsu in a safe, supportive environment. Through our Jiu-Jitsu classes, you'll have fun, get six pack abs, and meet new friends and mentors from all over our community!
Brazilian Jiu-Jitsu classes offer:
A fun, healthy way to get fit
Real-world self-defense skills
Improved focus and reduced stress
A great sense of community
When you train with us at Armezzani Jiu-Jitsu Academy, you'll get the best Brazilian Jiu-Jitsu instruction in the Monaca area, and the results will speak for themselves. Weight loss, muscle gain, greater productivity at work... these are just a few of the incredible benefits of Jiu-Jitsu training!
What Can Armezzani Jiu-Jitsu Academy Offer?
We accept students of all abilities to start training at Armezzani. Take a look at our different Adult Brazilian Jiu-Jitsu offerings to see what you can get started with now!
Brazilian Jiu-Jitsu Fundamentals
The practice of Brazilian Jiu-Jitsu provides individuals a core skillset and mindset that will benefit them throughout nearly every aspect of their life. Brazilian Jiu-Jitsu may be the toughest yet most-enjoyable form of physical fitness, increasing students' strength, flexibility, stamina, balance, and focus. In addition, Brazilian Jiu-Jitsu is the most practical form of self-defense. By applying lessons and techniques off the mat, students tend to improve their entire lifestyle and general well-being. The BJJ Fundamentals classes teaches the basic principles of effective fighting.
Advanced Brazilian Jiu-Jitsu
Students will be taught Professor Lou's battle-tested and honed advanced techniques. Students attending the advanced BJJ classes should have a basic understanding of BJJ principles. Techniques are studied through learning technique, drilling, and intense sparring. In addition to learning advanced positions and moves, students are taught to focus more on strategy, situational attacks, and transitions.

Our advanced BJJ classes will catapult your BJJ game to a whole new level. Lou's library of techniques focus on having a game-plan, being fluid, and alway being one step ahead of your opponent. Expect intense drilling and sparring when attending the advanced BJJ classes.
No Gi Brazilian-Jitsu (Submission Grappling)
No-Gi Jiu-Jitsu or submission grappling is the modern evolution of BJJ. Grappling brings bjj skills, wrestling skills, sambo skills, judo and all ground skills into the one world. Students will significantly enhance their skills for for MMA and grappling tournaments. No Gi grappling is exciting, fast paced and creative. For those training No-Gi grappling in Pittsburgh, there is no better place than Armezzani BJJ.

Submission grappling brings all the techniques from Folk Wrestling, catch wrestling, Luta Livre, freestyle wrestling, Brazilian Jiu-Jitsu, judo and sambo. Submission grappling is the core technique used in mixed martial arts competitions, because there is no other style that comes close to rivalling it. Armezzani BJJ has a submission grappling program that is second to none. Including elite Brazilian Jiu-Jitsu coaches, Wrestling Coaches and high level MMA fighters.
Enroll at Armezzani Jiu-Jitsu Academy Today!
Experience the grace, power, and life-changing potential of Brazilian Jiu-Jitsu system by signing up for our martial arts classes. You'll be welcomed by the awesome community we've worked so hard to cultivate here at Armezzani Jiu-Jitsu Academy, and it's easier than ever to get started. Join us in Monaca and get ready to roll!
Just fill out the short form below to get started with our Brazilian Jiu-Jitsu classes!